The last presentation of Day 1 at the Developers Conference that I attended was that of Slackware 14.2 by Pritvi Jheengut.
Pritvi is a member of the Linux User Group of Mauritius and a usual suspect at such tech events. He is perhaps the most popular Slackware user on the island. He made a fierce reputation for that. Some know him for his weird methods of doing things but he remains just a geek with passion for a couple of things that he adores; Slackware being one of them.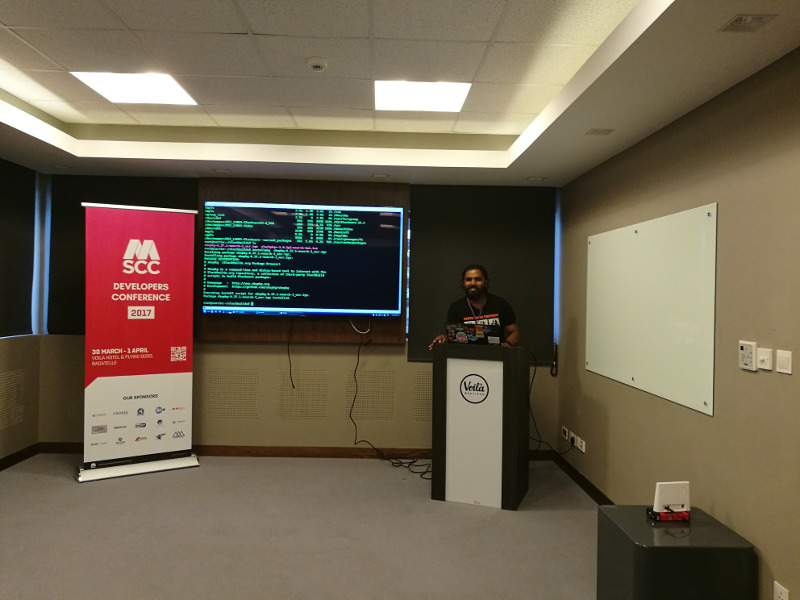 I missed the beginning of his presentation. In fact, when I entered the room he was in the middle of some important explanation about installing packages using the installpkg command. The screen was black and the text green. Pritvi had worn a Darth Vader t-shirt and I heard rumours that he even started the presentation with the Darth Vader theme. That would be totally legit.

Pritvi made us visit the Slackware internals, a lot about the arrangement of system files and the way packages are kept simple.
The earlier thing that I missed was actually a question about Slackware packages which Pritvi asked the attendees; whether they found it weird to install something that's no more than just a tarball. It generated a discussion about package management, software repositories, the how and why of Slackware and above all its simplicity of software packaging vis-à-vis other Linux distributions.
I craved for some Linux fun which was missing on Day 1 but Pritvi's presentation fulfilled that. It was a cool and interactive session with questions that popped up like mushrooms.
I'm not sure I'll ever ditch openSUSE for Slackware but maybe I have a more decent opinion on Slackware administration now.
Related